Once you send your product feeds and choose to create FBA shipments in a Private Workflow, you will be on the Proposed FBA Shipments page. On this page, you will have the choice to create a shipment or add to an existing working shipment if applicable.
You will also have the choice to change the shipment name, and once you have used the create shipment or add to working shipment option, you can edit the quantity in the shipments with box content on OR off.



Note: The proposed shipment destinations are subject to expiration after 48 hours in which Amazon will re-evaluate the destinations. There is a countdown to when the plans expire on this page, so be sure to either create or add the shipment to an existing shipment before the time runs out.

Adding to an Existing Working Shipment
The requirements for adding to an existing shipment are the following:
The first shipment that you are adding to has to be sent from InventoryLab (it cannot have been created through a shipping plan in seller central)
The destinations must match
They must be the same label prep type. For example you cannot combine a NO_LABEL with a

SELLER

_LABEL shipment. For instructions on combining these, check out this help article.
Your "Box Content" selection must be the same. ie: Both batches had to be Box Content "On" or both had to be Box Content "Off" at batch creation. You are not allowed to only provide box level content details for a portion of your shipment.
Your "Shipping Method" selection must also be the same. For example, you are not allowed to combine a shipment that is Less than truckload (LTL) to one that is Small parcel delivery (SPD)
Note: If you are combining shipments that contain the same item, you must also be sure not to exceed the 5%, 6 unit maximum rule that Amazon has for editing your shipments. If adding to an existing shipment will exceed this maximum, the Add to Existing option will not be available for the shipment and you will be unable to combine it into the existing working shipment, even if all of the other conditions are met.
If a shipment is eligible to be added to an existing one, a down arrow will appear next to the the Add to button. To add to the existing shipment, click the down arrow and choose which shipment you would like to add to.
Once a shipment is selected, a prompt will appear asking if you are sure.
If you choose 'Yes, Add', your shipments will be combined immediately.
Note: If a shipment is no longer in Working status in Seller Central, be sure to press the 'Sync' button to have it removed from the Working Shipments area. This will avoid accidentally adding the new shipment to one that is already completed.
Editing Quantity
With box contents on OR off, you can also edit the quantity at this point. The quantity field becomes editable when you have either created a shipment or in this case added to a working shipment:
Change the number of items in the shipment, up or down, then click on tab or enter. You will then see a pop up confirming your choice, and any changes you make will be reflected in Stratify as well as Seller Central. If you click the trash can and confirm, you will delete the item from the shipment displayed in Stratify and also in Seller Central.
Any edits you make will also be reflected in the batch once it is closed and displayed on the List>Closed Batches page.
If you have the option to automatically print labels on quantity edit turned on (Go to Settings>Print Settings to make these changes), any adjustments made to increase the quantity will also automatically print the same quantity of labels for that item: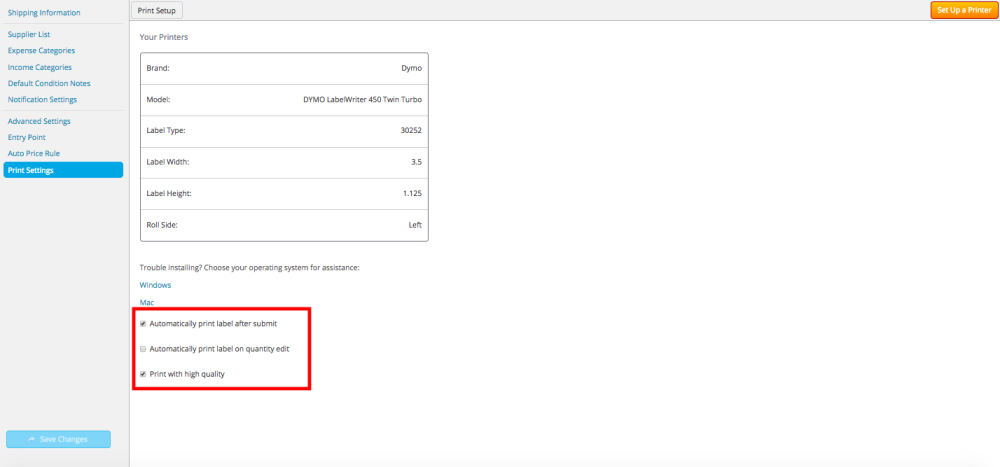 Keep in mind, you still have to abide by the 5% or 6 item rule from Amazon that limits how much you can change quantity (you will see a pop-up warning you of this if you attempt changes outside those limits).
Completing the Batch
Once you make all of your selections, if Box Contents are OFF, click on the Complete Batch button to finish the batch. If Box Contents is ON, you still need to provide box contents for the items you have added. For more information, check out the below article: