Scoutify gives you a lot of amazing information at a glance on your screen on it's own, but we also provide you some quick links to do even more research!
To get to these links, tap on the Research button on the Details screen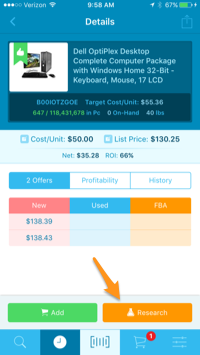 A list of websites will appear for you to use, including any Custom ASIN Shortcuts you have added to Stratify:
When you tap on any of these sites to visit them, the ASIN of your product will automatically be transferred over to the site and the details specifically for that product will appear for you!
Research Options
Amazon Listing
Tapping on the Amazon Listing link will take you directly to that product on Amazon.com as it appears to an Amazon shopper
Amazon Prime
Tapping on the Amazon Prime link will take you straight to Amazon.com's offer page for the product.
As mentioned in the Offers portion of this guide, Scoutify is limited by the Terms and Conditions with Amazon on which offers can be displayed inside of our application. Using this link is a way to view all of the offers available by being taken to Amazon.com inside of your default browser
CamelCamelCamel
Tapping on the CamelCamelCamel link will take you to the CamelCamelCamel website. CamelCamelCamel is a free Amazon price tracking tool that allows you to see the price history of a product
BookScouter
Tapping on the BookScouter link will take you to the BookScouter website. BookScouter allows you to see the current price of a book across several marketplaces
Custom ASIN Shortcuts
These are custom shortcuts created by you that allow you to search by ASIN on a website of your choice. These are added in Stratify, the desktop application of InventoryLab, and will also appear on the list of options in Scoutify 2.
For example, Amazon-ASIN.com was added to the Custom ASIN Shortcuts list in Stratify, and is also available within Scoutify 2 for you to use:
To create custom shortcuts, check out this step by step guide: Setting Up Custom ASIN Shortcuts
eBay
Tapping on the eBay link will take you to the eBay website and provide you with the listings of the product inside of eBay
Google
Tapping on the Google link will search the product through Google and provide you with the results
Amazon Restrictions
If you are signed into your Seller Central account, and have the feature turned on, Scoutify will show you in the app if you are restricted from selling a product.
However, you can also tap on the Amazon Restrictions link to be taken directly to your Add a Product page inside of Seller Central to see this information displayed by Amazon.
You will have to log into your Seller Central account the first time during your sourcing trip for this feature.