You can view your search history inside of Scoutify by tapping on the clock icon located second from the left at the bottom of the application.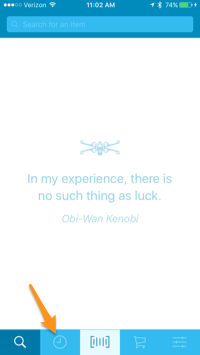 This will provide a list of your recent searches and can be stored for either 30 or 90 days, depending on the choice you made on the Settings screen.
The data you see, such as the rank of the item, will be what was displayed at the time of your original search.
To see the updated information, tap directly on the product to be taken to the current Details screen for it.
You can also search for items in your history from the top search bar.
When items are viewed from Search History, they will not be automatically checked for Restrictions again.
If you want to check Restrictions, you can search the items from the main search screen or check the Amazon Restrictions link.