When you have chosen to combine your shipment into an already Working Shipment, the items that you have added will still need box assignments for their Box Level Content.
This is very easy to do!
Simply go to the shipment that your items were added to and click the 3 horizontal lines. Select Box Content Information.
You will see that you have your previously assigned items there, as well as your new items that still require an assignment.
Click the dropdown next to Assign and choose the box to put the items in, and the quantity you'd like in that box.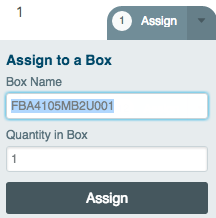 Repeat until all of the items in the shipment have been assigned.
Resending Your Box Content Information
Once all of your changes have been made and you are happy with your box assignments, the final step is to click the "Transmit Updated Boxes" button in the lower right corner of the page.
You'll then be asked to adjust the weight and dimensions for your boxes to match what was added to the shipment.
Once the information has been entered for all the boxes, click Submit All to finish transmitting the updated box content information to Amazon. Or, if you need to make changes to your box assignments, click Cancel to go back.
If you're not ready to enter the weight/dimensions for the boxes yet, click Skip This Step to finish sending your box content information. (You can edit your box content later in InventoryLab to include them, or enter them directly in Seller Central.)
Note: If you have already calculated and paid for label charges in Seller Central, you will want to void the charges, recalculate your charges and reprint your shipping labels with the correct information.