The end of your batch will differ on whether or not you have chosen to provide Box Content Information during your initial batch creation.
If you HAVE chosen to provide Box Content Information:
Once you have finished adding all of your items to your batch and have assigned them all boxes, click the "Review Batch" button in the bottom right hand corner of the page.
You will be taken to a Box Content Information page where you can review and Edit your Box Content Information if needed.
This page has the following sortable columns:
Shipments Area 
• Shipment Name
• Shipment ID
• Prep Type
• Destination
• Qty
• Total Boxes
Box Contents Area
• Title
• MSKU
• Condition
• Qty
• Box Information
Once you are satisfied with your box content arrangements for each shipment, click the Send button to the far right of each shipment in the top window as shown above. Once you have clicked Send on the last shipment, the batch will close and all product feeds and box content information will be sent to Amazon. 
If your batch does NOT automatically close and take you to the List>Closed Batches page, click on the Send All button in the lower right corner of the Box Content Informationpage and the batch will close, completing your feeds to Amazon. 
If you have chosen NOT to provide Box Content Information:
When you are finished with your batch and have added all items, simply click the Complete Batch button at the bottom of the page. This will send your product listing feeds and complete your batch.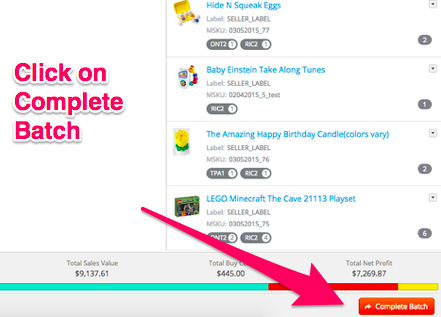 Then click on OK to confirm