If you would like to know how to use this feature with a barcode scanner, visit our Box Content Scanning – Private Workflow article.
Sending Your Box Content Information
Click on the name of the shipment in the upper window on the Box Content Information page that needs Box Content Information.
This page has the following sortable columns:
Shipments Area
• Shipment Name
• Shipment ID
• Prep Type
• Destination
• Qty
• Total Boxes
Box Contents Area
• Title
• MSKU
• Condition
• Qty
• Box Information
We automatically create the first box for you, as is shown in the panel to the right side of the screen. If you need additional boxes, click on the +New button to create a new box.
Click the drop down arrow next to Assign, choose the box you'd like to put your items in, the quantity you'd like in the box, and click Assign.
A gray box means you have not assigned any quantities of that item to a box yet.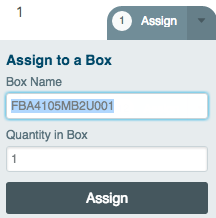 If you only assign a portion of the quantity of an item in your shipment to a box, you will notice the remaining quantity still has a gray Assign button next to it. This indicates that you have more of the item that has not yet been given a box designation.
You can see the total number of items left to assign in a shipment at the bottom left of the page.