Effective November 1, 2016, any shipment received at an Amazon fulfillment center without box content information is subject to fees that will be assessed by Amazon. To make your life easier, InventoryLab has built the option to provide this information right into your workflow!
This article details how to enter box content information manually. If you would like to know how to use this feature with a barcode scanner, please see our Box Content Scanning – Live Workflow article.
Reviewing and Transmitting Box Content
Turning on Box Content
When creating a new batch on the List>List & Prep page, set the Provide Box Content option to On:
Assigning Items to Boxes
As you add items to your batch and receive warehouse assignments, you will be able to assign your items to a box by clicking the arrow next to each fulfillment center.
Choose the box name you would like to put your product in and enter the quantity of units you'd like to fit into the box. Repeat for every item in your batch.
Note: Box names are auto-generated to best line up with Seller Central for ease of use between the programs. We highly advise not attempting to alter the numerical order of them at this time.
A gray box means you have not assigned any quantities of that item to a box yet.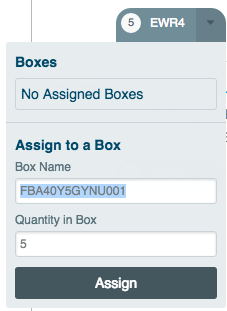 An orange box means you have assigned some of the quantity, but not all of the expected quantities, to boxes yet. In the image below, there are 5 units of the item that need to be assigned, but only 2 have been assigned to the box ending in U001 – so 3 are still left to be assigned to a box.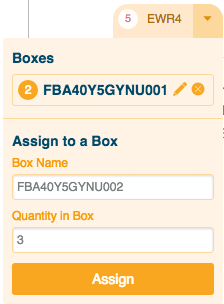 A green box means all quantities for that MSKU, to that fulfillment center, have been successfully assigned to a box.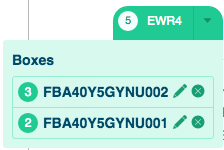 If you need to make changes to MSKU quantities during this stage, please see Editing Quantities During List – Live Workflow
Reviewing and Transmitting Box Content
Once you have finished adding all of your items to your batch and have assigned them all boxes, click the Review & Complete button in the bottom right-hand corner of the page.
You will be taken to a Box Content Information page where you can review and edit the box assignments for the items in the shipment(s) if needed.
This page has the following sortable columns:
Shipments Area
• Shipment Name
• Shipment ID
• Prep Type
• Destination
• Qty
• Total Boxes
Box Contents Area
• Title
• MSKU
• Condition
• Qty
• Box Information
Once you are satisfied with your box content arrangements for each shipment, click the Transmit Boxes button to the far right of each shipment in the top window as shown above.
Or, to send the box content for all the shipments at once, you can click the Transmit All Boxes to Seller Central button at the bottom of the page.
You'll then be asked to enter the weight and dimensions for your boxes. By entering these details, they will be sent to Amazon along with your box content information so you won't have to enter them in Seller Central.
If you have multiple boxes in a shipment that are all the same weight and size, you can enter those details once in the top '"All Boxes" row to have them applied to all the boxes in the shipment.
Once the information has been entered for all the boxes, click Submit All to finish transmitting your box content information to Amazon.
If you're not ready to enter the weight/dimensions for the boxes yet, or if your shipment contains hazmat items, click Skip this Step to finish sending your box content information. (You can edit your Box Content later in Stratify to include them, or enter them directly in Seller Central.)
For more information on entering weight & dimensions, please see- Add Your Shipping Box Weight and Dimensions through InventoryLab
After you have completed your batch, wait a few minutes for a green Success message in Stratify.

Once it appears for a shipment, that specific box content information has been accepted by Amazon.

Note: If you select "Transmit All Boxes to Seller Central" and receive an error for one shipment, you will need to resend them all. If you do not successfully send your box content information without error, you will not be able to proceed in Seller Central.