Many sellers like to use some of their sourcing data to create a special MSKU. InventoryLab has made that capability much more automated!
To do this, on the List & Prep page, click on the Edit button in the Auto-Generate MSKUs section

Choose the Use a Variable MSKU radio button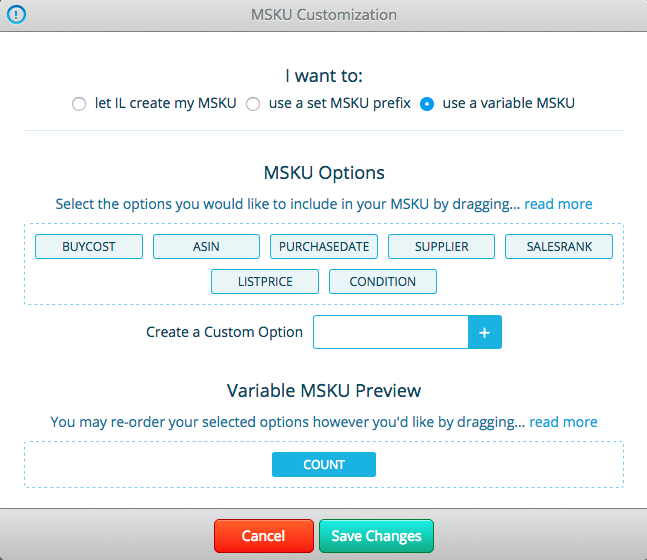 Choosing the Variables to Include
Under MSKU Options, you will see that you can choose from:
Buy Cost
Supplier
ASIN
Purchase Date
List Price
Condition
Sales Rank
a Custom field (limited to 25 characters)
to include in your custom MSKU. You are able to choose up to 4 of these by dragging and dropping them into the Variable MSKU Prefix box. When you see the orange box appear you can drop the item in the variable MSKU prefix box. 
The COUNT field is required. This will ensure that each MSKU created is unique and does not cause conflict within Seller Central
In the example below, we have selected to include the Buy Cost, Supplier, and List Price fields for our Custom MSKU:

Changing Your Delimiter/Separator
You are also able to change how your fields are separated!
Click on the separator to reveal a dropdown box of other options

You can choose from:
NONE (this will show as a blank space on the dropdown)
_
-
.
\
|
These can be different between each field. In our example below where we have chosen to use _, /, then .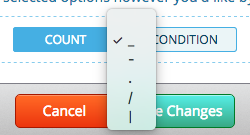 Once finished, click the green Save Changes button
You will see what you have chosen now showing in the Variable MSKU area. This can be edited going forward at anytime.

Final Result
When you go to list your product, your MSKU will be automatically created for you using your formula
Amazon has an MSKU character limit of 40 characters. You will see an error if your Custom MSKU is longer than this limit and will need to adjust your MSKU.
Here is the end result using our example data from above for an item with a $1.00 Buy Cost, Walmart as the Supplier, and a List Price of $16.48
If you see an X in your Custom MSKU instead of a field, it means you have not yet provided the data for that field. For instance, if you chose Buy Cost as a field in your MSKU, but have not yet assigned a Buy Cost to the item you are listing. Once you enter the information, this will update.