If you need to update accounting details for past orders in bulk, but your items are no longer in the Inventory pages, you can import your costs directly into your Accounting>FBA Sales or Accounting>Merchant Sales pages.

! You should only make updates in your Accounting tab to items that were deleted from your Inventory prior to you capturing a Buy Cost, and you now have past sales that you need to add those Buy Costs to. If the MSKUs that need an update are still in your Inventory, please use the Importing Accounting Details into Inventory Via .csv option. If you do update these items in the Accounting tab, the information will be overwritten by the information in the Inventory tab with any type of sync, update, or replenishment to the MSKU.
Visit the Sales page you would like to export (FBA or Merchant). If you are looking specifically to update items with no buy cost information, click on the blue Advanced button and change the search for transactions with No Buy Cost. You can also change the date-range of the data shown if needed.
Click on Search and once the results are displayed.
After you choose to filter or not, click on the Export button to get a .csv file of the results.
Add the cost and supplier to the orders and save the file.
! The buy cost column in an export displays the total buy cost of the order. If there's more than one quantity in the order, you'll need to edit the buy cost so that it accurately reflects the cost per one unit.
You do not need to add a negative sign in front of the cost/unit.
Go back to the Accounting>FBA Sales (or Merchant Sales) page and click on Import.
You'll first receive a reminder that this option is only for sales with items no longer in your Inventory pages.
Then, you'll have 2 options for how to import into your Sales pages: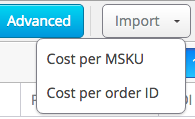 Cost Per MSKU – Allows you to import your cost for all of an MSKU at once. This will change every order under that MSKU to the same Buy Cost.
For best results, import a file containing a single order with the cost/unit of the MSKU.

Cost Per Order ID – Allows you to import different costs based on your Order IDs. This allows you to assign Buy Costs and Suppliers to the items within certain Order IDs.
Importing Supplier data currently is only available on the Cost Per Order ID selection.
Once you have chosen how you will be importing your data, you will see a screen that asks you to choose the file you want to import.
Choose your file and click Next.
The next screen allows you to match the fields in InventoryLab with the columns in your .csv file.
The required fields are in red.
The Cost Per Order ID option requires 2 columns: one that corresponds to Order ID and one that corresponds to your Cost/Unit.
The Cost Per MSKU option requires 2 columns: one that corresponds to MSKU and one that corresponds to your Buy Cost.
Select the correct columns for InventoryLab to import from for each field and click Next.
That's it! You should now receive an Import Success message. Imported changes can take up to 20 minutes to take effect on your account.