You can import your Other Expenses in bulk using a .csv file.
! Unlike importing into Inventory or Accounting, importing into Other Expenses is an ADD ONLY capability. It will not update data already in your Other Expenses. For example, if you export your Other Expenses, make changes, and reimport it back in, you will end up with duplicate entries for everything.
When you import into Other Expenses, your CSV file should contain at least 4 columns which will correspond to:
The expense category - up to 50 characters (new categories can be added using this import option)
The cost of the expense
An expense date
A description of the expense
First, click on the Import button.
Select the .csv file from your computer that contains the expense data you would like to import and click Next.
The next screen allows you to match the fields in InventoryLab with the columns in your .csv file.
The required fields are in red.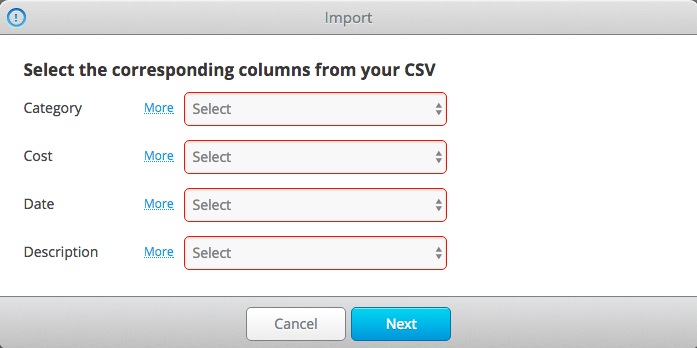 Select the correct columns for InventoryLab to import from for each field and click Next.
That's it! You should now receive an Import Success message. It can take up to 20 minutes for your additions to appear.