There are a couple of ways you can print labels outside of the listing workflow. First, make sure to set up your compatible thermal printer.
Note: Currently you can only print FBA labels.
Printing from Inventory
To print a label for an item in your inventory go to the Inventory > FBA tab. You will need to click on the drop-down next to Accounting to switch to the Management view.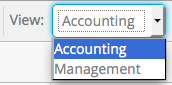 Locate the item using the search bar by searching for ASIN, MSKU, Title, or by scanning the UPC. Once you find the item, click Print.
Printing from Closed Batches
If you'd like an easy way to print what you've recently sent to Amazon, you can print from your closed batches. To do so, navigate to List > Closed Batches.
From there, click on the batch you would like to print labels for. You can click the Print button next to each item, or click the checkbox next to each item and choose Print Label at the top of the page. If you'd like to print the entire batch, click the top checkbox.
When the prompt appears, you can add a number. If you want to print the exact quantity in the batch, leave the box blank and click Print.