In order to allow someone to have access to parts of your account, but not all, you can create a sub account for them. You can add or manage your sub-user accounts by going to My Account>Employees.
Right now, users may only add 2 sub accounts. These sub accounts could be used for employees, third party prep services, accountants… anyone you want to give access to.
Among other things, one of the benefits of adding sub accounts is to help you increase the throughput of your workflow. Utilizing your main account and two sub accounts, up to three people can List product at the same time – without interfering with each other.
Your subscription gives you the benefit of adding two sub accounts. Each sub account has the following capabilities:
Configure their own label printer
Create their own MSKU prefix
Configure their own Auto Price Rule
Configure their own Advanced Settings->Default From Last Entry


How to Create a Sub Account
To set up a sub account click your name in the upper right hand corner>My Account>Employees and click on Add Employee as shown below:

Once you click on Add Account, a pop-up will come up where you enter the person's email address and click the check boxes for any areas of InventoryLab that you want them to have access to.
Available tools:
List

List & Prep
Closed Batches
Amazon Listing Errors

Dashboard
Settings
Accounting

FBA Sales
Merchant Sales
Refunds
Reimbursements
Other Income
Inbound Shipping
Mileage
Other Expenses
Disposition Management

Scout
Scoutify
Inventory

FBA
Merchant
Unlisted Inventory

Reports

Supplier Profitability
Category Profitability
SKU Profitability
ASIN Profitability
Inventory valuation
Velocity Report
Removals & Disposals
Sales Tax Report
Profit & Loss
After you click Ok the person you added will receive an email with an activation link. They need to check their email and follow the link to set their user name and password.
This link does expire in a very short period of time so make sure they are ready for it!
When they follow the link they will be taken to the screen below.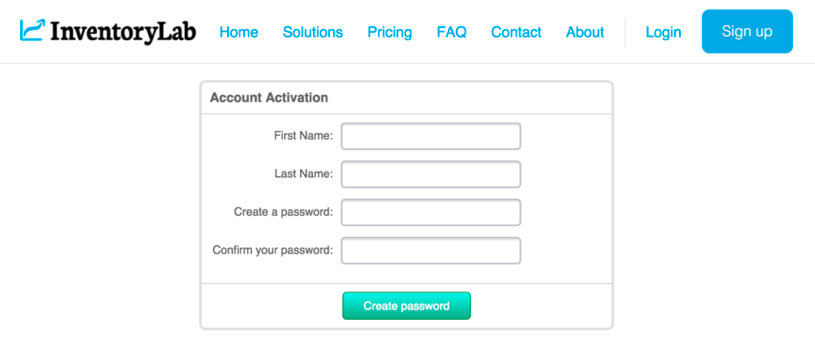 Once they have set up their login information, the sub account will be active and ready to use.
If you need to delete the account, you can return to My Account>Employees page to remove the sub account and the individual will no longer be able to access your information.