Many times, the quantity of an item needs to be changed after you have already begun the listing process. You may have found an extra one in your pile, or discovered one was damaged and needed to be removed. If you are using InventoryLab, editing those quantities can be done with box content on OR off.
A few things to note before we get into the editing process:
Any edits you make will also be reflected in the batch once it is closed and displayed on the List>Closed Batches page.
Any edits made to a working shipment after a batch has been closed are still reflected in the batch and on the replenishment page for that item.
Also, if you have the option to automatically print labels with quantity edit turned on (Go to Settings>Print Settings to make these changes), any adjustments made to increase the quantity will also automatically print that same quantity of labels for that item (for example, if you add 2 more of an MSKU to the shipment, you will get 2 more labels for that MSKU):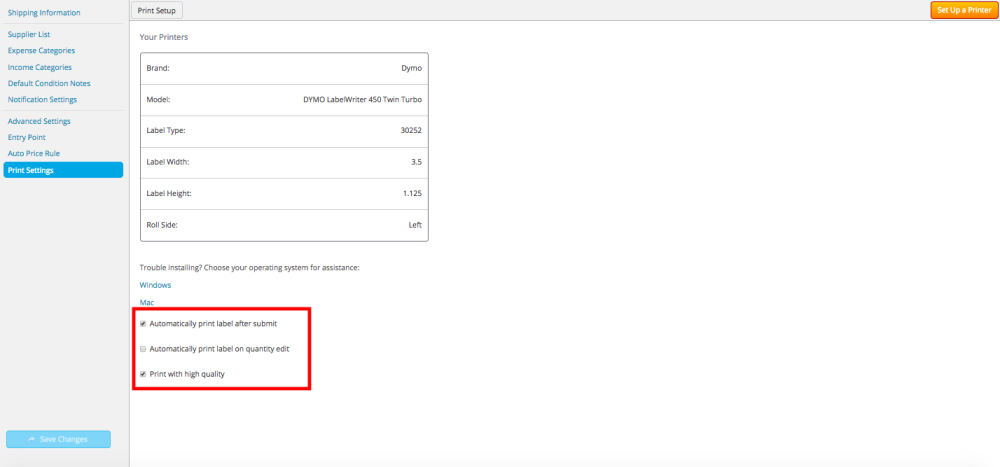 You still have to abide by the 5% or 6 item rule from Amazon. This means you can edit quantities by 5% or 6 items, whichever is greater (you will see a pop up warning you of this if you attempt changes outside those limits).
Editing with Box Content On
For both Live (after you click Review Batch) and Private (after you create all of your shipments) modes, once you are on the Box Content screen, simply click directly in the Qty box.
To Remove all quantities of an item, click the trash can or edit the Quantity to 0 and you will be asked if you want to delete the item from your shipment.
Simply type in the correct quantity and hit Enter. You will notice that the quantity has now changed in the quantity box, near the Assign dropdown, and in your Working Shipment on Seller Central.
If you already have the items assigned to Multiple Boxes, you will need to adjust the quantities in your box assignments first to create the edit. This is because the system is unsure which box to remove the quantities from automatically.
For example, if I tried to adjust my quantity to 3, while all 4 items were assigned to 2 boxes, an error will appear.
However, if I un-assign 1 of the items from the box I removed it from and then made the edit, there would not be an issue.
If you have already sent your Box Content information once and you need to still edit quantities, you can do this same capability through your Working Shipment!
First, on the List page of InventoryLab, click the 3 horizontal lines to the right of the Working Shipment that your item is in and select Box Content Information.
You will see your shipment information open up on the right hand side where you can complete the original steps to edit your item(s).
Finally, click the Transmit Updated Boxes button in the lower right hand corner of the screen so Amazon can update the data for your box content details.
Once this button is selected you will see the option to enter your updated box weight and dimensions, in order to transmit this information to Seller Central. Clicking Cancel will bring you back to your Box Content page or you can select Skip This Step if you prefer to enter these details in Seller Central.
Once your new weight and dimensions have been entered successfully, you can click Submit All to send this data to Amazon and finish up the shipment within Seller Central.
Editing with Box Content Off
Once you have created the shipment, or used the add to working shipment option, the quantity field for each item in the shipment becomes editable.
Change the number of items in the shipment, up or down, then click on tab or enter. You will then see a pop up confirming your choice, and any changes you make will be reflected in Stratify as well as Seller Central.
If you enter zero for the quantity, you will delete the item from the shipment displayed in Stratify and also in Seller Central.
You can also delete items within your Shipment by clicking on the trash can icon next to the quantity.
Any edits you make will also be reflected in the batch once it is closed and displayed on the List>Closed Batches page.
After you make your changes, click on the Complete and Close Batch button in the lower right corner of the screen.
That's it! You're all set to finish your shipment in Seller Central!
If your batch is already closed and box content is OFF, you can navigate to the shipment in Seller Central. From there, click Review and Modify Units:
You will have the option to change the quantity up to 5% or 6 units.